portfolio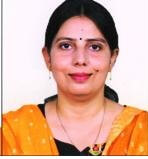 Dr. Shalini Rankawat
Associate Professor
CONTACT
---
CABIN:
Block: 2 , Cabin: 2112
EMAIL:
shalinirankawat@gecg28.ac.in
AREA OF INTEREST
---
Embedded Systems
Signal Processing
Control Systems
Biomedical Instrumentation
Industrial Measurement
Process Control.
COURSE TAUGHT
---
Basic Electronics
Microprocessors Interfacing
Microcontroller Interfacing
Control System Process Control
Industrial Measurements
Sensors And Signal Conditioning
Analog Signal Processing Digital Signal Processing
Analog And Digital Communication
Electrical And Electronics Measurement
Biomedical Instrumentation
Instrumentation For Agriculture And Food Processing
Building Automation
Professional Ethics.
SKILL AND KNOWLEDGE
---
C
C++
Matlab
Octave
Embedded System Programming
Embedded Systems
Control Systems
Industrial Measurements
Process Control Systems
Bio-medical Instrumentation.
RESEARCH INTEREST
---
Signal Processing
Embedded Systems.
EDUCATION
QUALIFICATION
---
Phd
01-01-2012 - 29-12-2017
Daiict, Gandhinagar.
ME/MTech
01-01-1991 - 01-01-1993
I.c., Nit Kurukshetra
WORK EXPERIENCE
---
Total : 25 years
Associate Professor and Head of Instrumentation & Control Engineering department
09-07-2007 - 23-12-2022
Government Engineering College, Sector-28, Gandhinagar
Head of Instrumentation & Control department
01-01-2006 - 07-07-2007
Christ Polytechnic Institute, Rajkot
Lecturer & Head of Instrumentation department
15-06-1999 - 31-12-2005
Christ College, Rajkot
PORTFOLIO
---
Women Development Cell
A gender equality awareness that facilitates independence, safety, well-being and dignity
of women; empowering them with women's rights, creating equitable opportunities and
promoting overall personality development ensuring enrichment of their future.
| # | Title | Publication Date | Author | Conference/Journal | Details |
| --- | --- | --- | --- | --- | --- |
| 1 | An Empirical Study Of Modified Beat Sqi Based Majority Voting Fusion Method For Heart - Rate Estimation In Noisy Multimodal Cardiovascular Signals. | 2022 | Dr. Shalini A. Rankawat | Physiological Measurement Journal | IOP publishing Physiol. Meas.43(2022) 128001 |
| 2 | Ecg Heart Beat Detection Using Modified Slope Sum Function And Teager-kaiser Energy Method | 2018 | Shalini A. Rankawat | 2nd International Conference On Biosignal Analysis, Processing And Systems (icbaps 2018), Malaysia. | IEEE conference |
| 3 | Robust Heart Rate Estimation From Multimodal Physiological Signals Using Beat Signal Quality Index Based Majority Voting Fusion Method | 2017 | Shalini A. Rankawat And Rahul Dubey | Elsevier Journal On Biomedical Signal Processing And Control, Volume 33, Pp 201-212. | Elsevier Journal |
| 4 | Ecg Artifacts Detection In Noncardiovascular Signals Using Slope Sum Function And Teager Kaiser Energy | 2015 | Shalini A. Rankawat And Rahul Dubey | 2015 International Conference On Biosignal Analysis, Processing And Systems (icbaps 2015),pp 6-10. | IEEE Conference |
| 5 | Heart Rate Estimation From Non-cardiovascular Signals Using Slope Sum Function And Teager Energy | 2015 | Shalini A. Rankawat And Rahul Dubey | 2015 International Conference On Industrial Instrumentation And Control (icic), Pp 1534-39. | IEEE Conference |
| # | Title | Date From | Date To | Duration | Organizer |
| --- | --- | --- | --- | --- | --- |
| 1 | Mooc Fdp Course On "biomedical Signal Processing" | 24-01-2022 | 20-04-2022 | 24/01/2022 To 20/4/2022 12 Weeks (equivalent To 1. | Online (NPTEL SWAYAM Portal) |
| 2 | Udayam (unlimited Digital Advanced Yearlong Academic Method Of Learning) E-content Development Course | 28-07-2020 | 18-08-2020 | 28-7-20 To 18-08-20 | Education Department, Govt. of Gujarat |
| 3 | Comprehensive Online Intellectual Property Rights (ipr) | 06-07-2020 | 14-09-2020 | 06/07/2020 To 14/09/2020 (2 Week) | iHub, Gujarat |
| 4 | Nba Accreditation | 22-07-2019 | 26-07-2019 | 5 Days | IIIT RAM |
| 5 | Pha Lopa And Hazop Analysis | 15-01-2018 | 19-01-2018 | 5 Days | GIAN,GEC,GAndhinagar |
| 6 | Management Capacity Enhancement Programme (mcep) Iim-indore | 02-02-2017 | 08-02-2017 | 1 Week | IIM- Indore TEQIP-2 Project |
| 7 | Advance Pedagogy | 16-01-2017 | 20-01-2017 | 5 Days | GEC-G'nagar TEQIP-2 Project |
| 8 | Recent Trends In Engg & Technology And Its Impact On Academic Reforms | 19-12-2016 | 31-12-2016 | 13 Days | GEC-G'nagar TEQIP-2 Project |
| 9 | Distributed Control System | 03-10-2016 | 07-10-2016 | 5 Days | Yokogawa Ltd,GEC-G'nagar TEQIP-2 Project |
| 10 | Design Of Analog Cmos Circuits | 11-06-2012 | 22-06-2012 | 12 Days | Network of Engineering Institution, DAIICT, Gandhinagar |
| 11 | Integrated Energy Policy | 20-08-2010 | 21-08-2010 | 2 Days | Gujarat Energy Transmission Corporation Limited, PDPU, Gandhinagar |
| 12 | Innovative Training Practices For Microcontroller And Interfacing | 16-07-2010 | 17-07-2010 | 2 Days | Instrumentation and control dept.VGEC Chandkheda and Biomedical Dept, L.D.C.E.,Ahmedabad |
| 13 | Automation And Control | 14-06-2010 | 19-06-2010 | 6 Days | IIT Bombay& L.D. college of Engineering, Ahmedabad |
| 14 | Right To Information Act-2005 | 24-08-2009 | 25-08-2009 | 2 Days | Sardar Patel Secretariat training centre |