Undergraduate / Postgraduate Programmes
Program
Bachelor of Metallurgy Engineering
Head of department
Dr. Indravadan B. Dave
Year of starting
2008
Level
UG
Intake
30
About Department
A relatively novel undergraduate program in Metallurgy Engineering at Government Engineering College, Sector - 28, Gandhinagar has been designed to train engineering graduates who would be effective in meeting the emerging trends in our country in advanced materials as well as in Metallurgical Engineering. The Department is offering an eight semester Bachelor degree program since the academic year 2008-09. Metallurgy Department (NBA Accredited), Government Engineering College, Sector 28, Gandhinagar with the approval from Gujarat Technological University, Ahmedabad has started B.E. HONORS/MINOR PROGRAM in "INDUSTRIAL BASED NON DESTRUCTIVE TECHNIQUES AND PRACTICES" from second term of Academic Year 2022-23. Industries are in need of qualified NDT Engineers. This course will be useful not only for employment but will develop entrepreneurial skills. The Metallurgy Department has a "Center for Quality" which is established under Vibrant Gujarat 2019 by signing an MoU with the Gulf NDE. This "Center for Quality" will be useful for the students registering for the program. More than 15 students have registered for the newly started course for B.E. HONORS. To earn this student will undergo additional one subject in Semester IV and V, two subjects in Semester VI and one minor project for the area of study in Semester VII. For any additional information, interested can contact the Course Coordinators, Dr. H. H. Jadav and Prof. D.V. Mahant during institute timing. The faculty team is a fine blend of young, dynamic and experienced individuals who impart knowledge in the areas of Physical Metallurgy, Mineral Processing, Foundry Technology, Iron and Steel Manufacturing, Metal Forming and Metal Joining, Powder Metallurgy, Non-destructive Testing and other Characterization Techniques. Students are given an exposure to the advanced areas like Nanotechnology, Smart Materials, Alloy Design, Failure Analysis and Selection of Materials and latest Characterization Techniques as a part of their curriculum or their projects. An in-depth study of the area of special interest of the student is undertaken through departmental elective courses and project work. Their overall study at college is supplemented by industrial training during summer preceding the fourth year of the program, educational tours and expert talks. Project work, both practical and computer based, in the fourth year of the program, enables the students to carry out independent research utilizing various skills learnt during the program.
Vision
Developing excellence in Metallurgy Engineering education through research, development innovation and team work for the benefit of society and environment
Mission
To prepare competent metallurgy engineers who can apply metallurgical fundamentals to control and manage different metallurgical and materials processing operations to produce quality metals products in industries.
To deliver information about current trends in the field of metallurgy and materials to the students.
To encourage students to work on innovative projects related to metallurgy engineering for managing defects free, economical, energy efficient products, processes or devices to best serve the nation to fulfill the socio-economic, techno-commercial and environmental needs
Program Educational Objectives (PEOs)
PEO1 Select and perform processes for ore dressing, manufacturing / joining products and modifying the properties of materials.
PEO2 Test the materials for their properties and suggest methods of protecting them from material degradation and failure.
PEO3 Metallurgy engineering graduates will work effectively as individuals and as team members in multidisciplinary projects.
PEO4 Engage in lifelong learning, career enhancement and adopt to changing professional and societal needs.
Program Specific Outcomes (PSO)
PSO 1 Apply their knowledge in the domain of Metal Joining and Non-destructive testing to undertake the challenges of the related industries.
PSO 2 Successfully apply the principles of analysis and implementation of Metal Joining and Non-destructive Testing which have been learned as a part of curriculum.
PSO 3 To groom students to become an employable or to pursue higher studies.
Metal Joining Lab
Metal Joining lab has TIG and MIG with MMAW welding machines purchased under TEQIP II grant. This equipment is used to give practical exposure of major welding processes. The lab is utilized for student project and various STTP and FDP programs.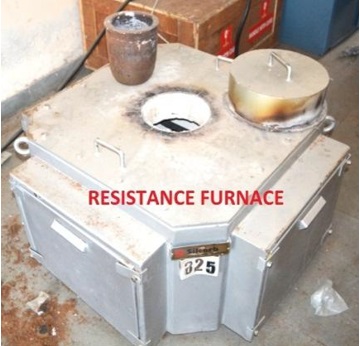 Foundry Technology Lab
Foundry Technology brings together basic metal casting phenomena which helps the students to learn basic casting processes. The major equipment of the lab is resistance melting furnace which is useful to melt the different non-ferrous metals and cast the metal by different routes. The laboratory also equipped with various sand testing equipment like permeability meter, sand rammer, Core Hardness Tester, sieve shaker, Rapid Moisture Tester, Sand Muller, Universal Sand Strength Testing Machine etc. The lab is also utilized for projects.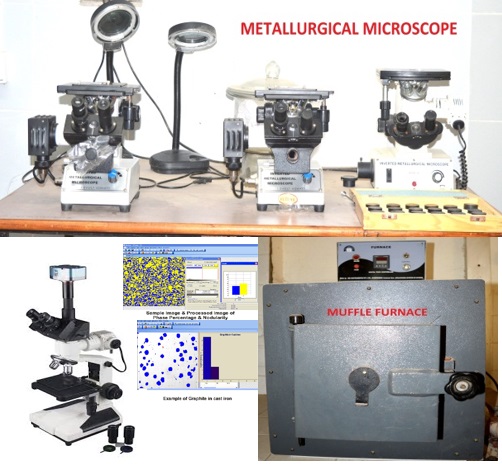 Physical Metallurgy and Heat treatment Lab
Physical metallurgy and heat treatment lab equipped with image analyzer, microscopes, muffle furnace and hardness testers (Brinell, Vicker's and Rockwell hardness testing machines). The lab is utilized for macro and microscopic analysis of the different ferrous and non-ferrous samples. Moreover, students' are performed heat treatment of plain carbon steel and alloy steel based on the curriculum. The lab is very useful for project and characterization purpose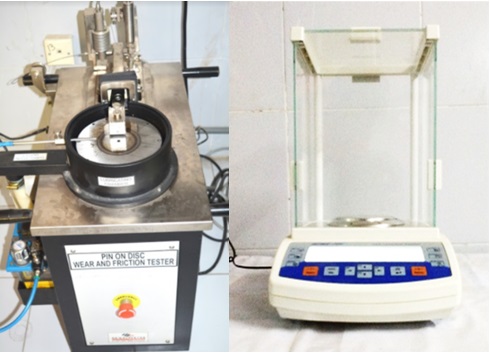 Material Degradation and Prevention
The corrosion and wear study of materials required to control the material degradation issues. The pin on disc wear testing machine is used to measure the wear behavior of the materials. The various coatings and corrosion studies were performed. This lab is utilized for undergraduate laboratory experiments and project work. Outside college students and faculties are also benefited by lab facilities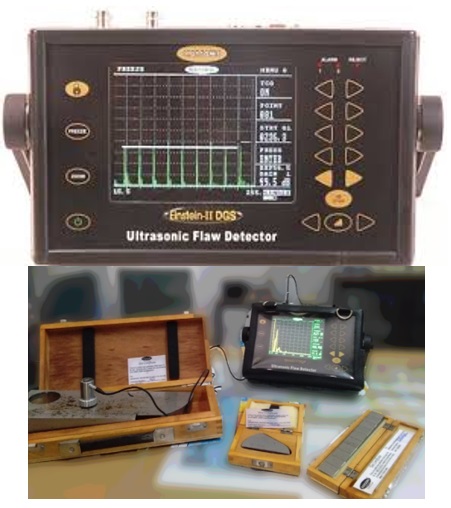 Non-Destructive Testing and Centre for Quality – NDT
Non-destructive testing lab is equipped with Digital Ultrasonic Flaw Detector with IIW V1, V2 and SB-10 calibration block and different frequency Normal, Angle and TR probes. Centre for Quality - NDT is established under Vibrant Gujarat MoU between GEC and Gulfnde, Ahmedabad for Rs. 11,30,000/-. Testing facilities for LPT, MPT, UT and Imaging radiographic films set up under this MoU. The facility is utilized for hands on practice and also for different training programs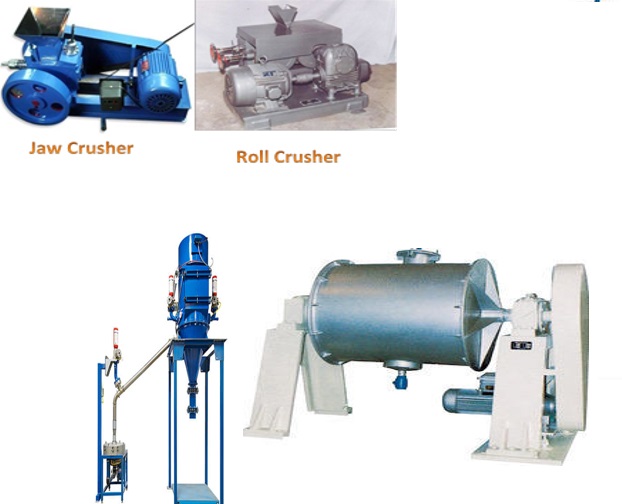 Mineral Processing Lab
Mineral processing lab is equipped with a lab scale jaw crusher, Roll crusher, Ball mill, air classifier. Students can perform experiments on basic size reduction and separation processes for different ores and minerals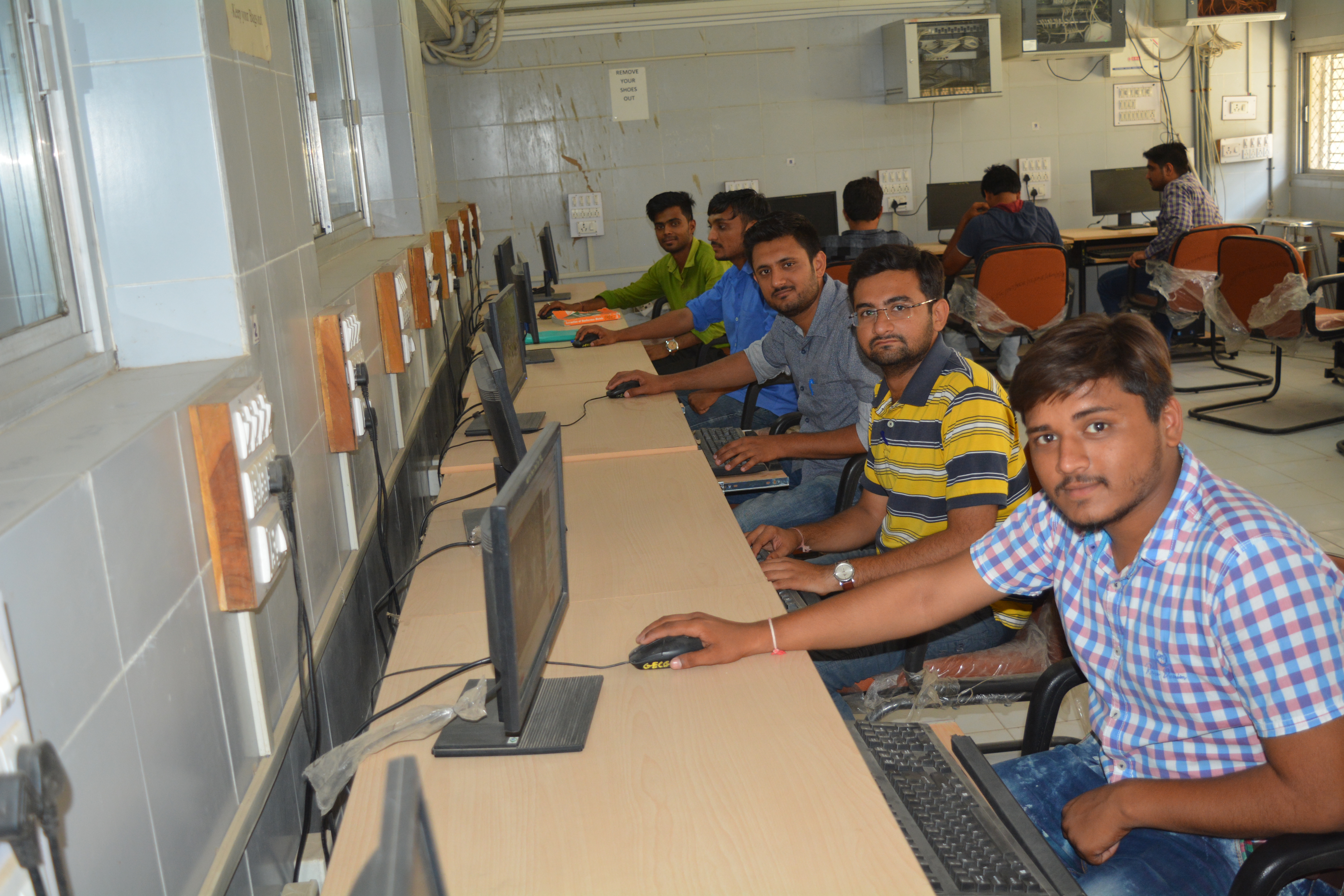 Computer Lab
Computer Lab is equipped with 15 PC consoles and utilized for the first year computer programming as well as final year project. The lab has virtual IIT-Bombay Virtual Lab facility for virtual practical on metal working processes