Undergraduate / Postgraduate Programmes
Program
Bachelor of Civil Engineering
Head of department
Dr. Narendra Arora
Year of starting
2022
Level
UG
Intake
90
About Department
Civil engineering is a professional engineering discipline which deals with the design, construction and maintenance of the physical and naturally built environment. It provides knowledge and skills to plan, analyse, design, estimate and execute projects using appropriate scientific, mathematical and engineering principles and concepts. The field is further broken into several sub-disciplines including water resources engineering, environmental pollution control, urban transportation planning, traffic engineering and pavement design, geotechnical engineering, advance structural mechanics, pre-stressed concrete and computer applications in structural engineering.Civil engineers are engaged in building highways, mighty power plants, dams, airports,coastal development, waste management and industrial plants. Apart from this, they are also involved in building an unending array of urban structures such as commercial complexes, skyscrapers, tunnels, bridges, roads, urban rapid transport systems, sports stadium and much more.
Vision
To mould the students into Professionals abreast with latest Skills and Innovative Research Orientation, to enhance the Knowledge of Faculty Members and Academic Infrastructure to Excellence, and to serve the Society with Novel Technology.
Mission
To combine quality education with career focussed learning and the application of knowledge.
To provide ambience of research and innovation.
To provide the best resources along with expertise of faculty.
To inculcate professional ethics and instil the sense of responsibility towards the society.
To create opportunities for industry-academia collaboration in order to explore the new avenues in the field of civil engineering.
Program Educational Objectives (PEOs)
Be equipped with knowledge, skills, attitudes and abilities to perform various functions as competent professional civil engineer in different capacities and roles.
Pursue Technological Innovations and Advancements.
Develop capabilities to solve real life problems.
Serve Industry with professional Ethics and society with moral responsibilities.
Develop leadership, resource management skills and exhibit good teamwork in multidisciplinary projects.
Program Specific Outcomes (PSO)
Become competent and responsible professional.
Perform efficiently in multidisciplinary project.
Explore technological advancements and innovations in engineering field.
Mechanics of solids
In this laboratory, students will learn different practicals on how to apply loads to various materials under different equilibrium conditions. The student will perform tests on materials in tension, compression, torsion, bending, and impact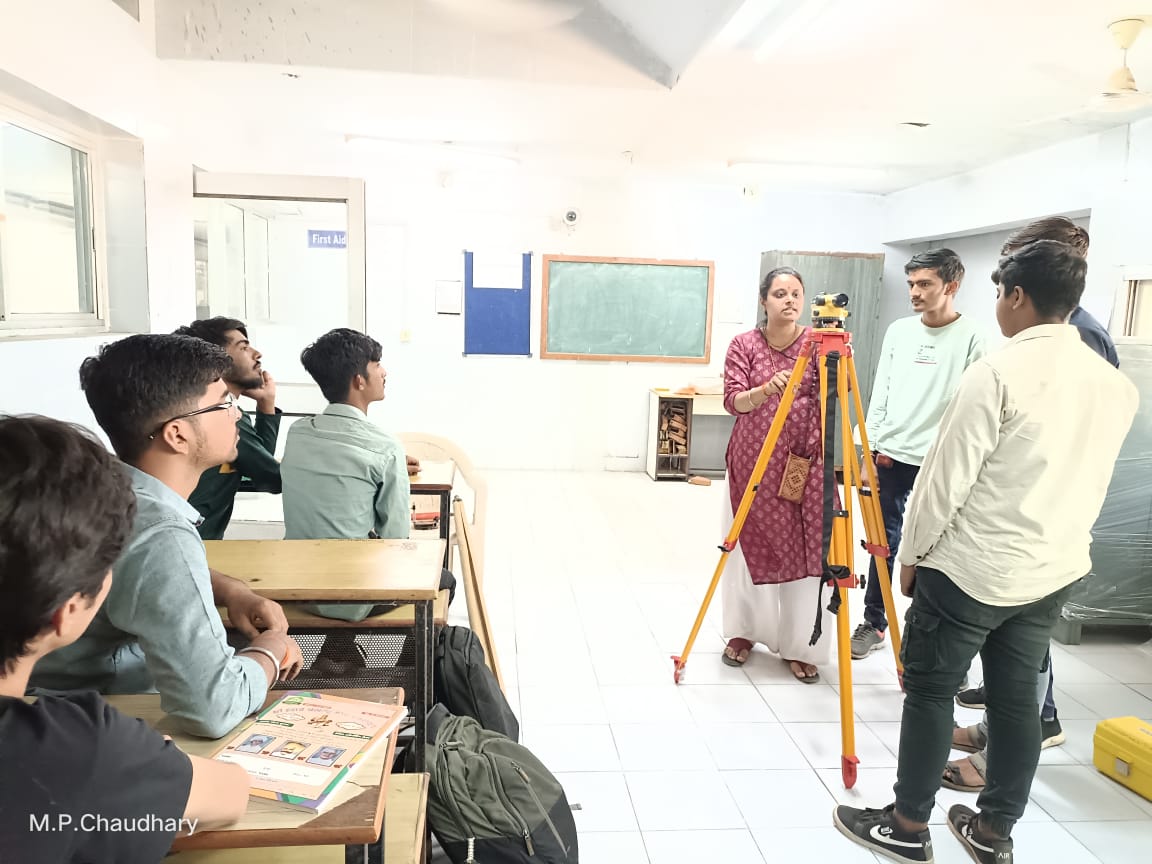 Basic Civil Engineering
This lab is well equipped with basic instruments used for primary level surveying. The surveying lab has various equipments like chain, tape and compass, ranging rods, levelling staffs for thorough knowledge of students. It also has Dumpy level ,theodolite Auto level for basic surveying needs.