Undergraduate / Postgraduate Programmes
Program
Bachelor of Electrical Engineering
Head of department
Prof. Suresh R. Sharda
Year of starting
2023
Level
UG
Intake
60
About Department
Electrical Engineering department was started in Government engineering college, Gandhingar with intake capacity of 60 students from academic year 2023-24. Electrical Engineering including areas Power System Engineering, Automation and Control, Electric Vehicle, Smart Grid Technology, Renewable Energy, Photo Voltaic Technology. The department is comprised of highly motivated, qualified and experienced faculties who make consistent and strenuous efforts for the students to improve their learning, research and development processes. The department will involved in a number of activities like conducting seminars, workshops and guest lectures by eminent people of other universities and R and D organizations. The Department will actively involved in the development of students' personality, communication and soft skills to make them Excellent Engineer in Electrical field.
For First Year Students: https://sites.google.com/gecg28.ac.in/gecg-general-department/home
Vision
Endow with good learning environment for electrical engineering students to become qualified, socially responsible and innovative electrical graduates to contribute to the society.
Mission
To produce skilled and disciplined electrical engineers to serve the nation.
To help in building national capabilities for excellent energy management and to explore non conventional energy sources.
To produce electrical engineers with an attitude to adapt themselves to changing technological environment.
Adapting to change in technology and apply the same for the benefit of society at large.
Program Educational Objectives (PEOs)
To create better learning environment to develop entrepreneurship capabilities in various areas of Electrical Engineering with superior efficiency
To generate high standards of moral and ethical values among the graduates, this will help in transforming them as responsible citizen of the nation
Get an employment in various government and private sector Companies, pursue research and innovation
Program Specific Outcomes (PSO)
Use various electrical testing tools and equipment in industry, be an Entrepreneur, Enroll in post-graduate courses, Pursue Research and Innovation in the field of Electrical Engineering.
Use knowledge of various electrical machines and electrical power system in solving complicated electrical circuits and networks by using latest design and simulation tools.
Use technical expertise and suggest modifications in existing electrical systems.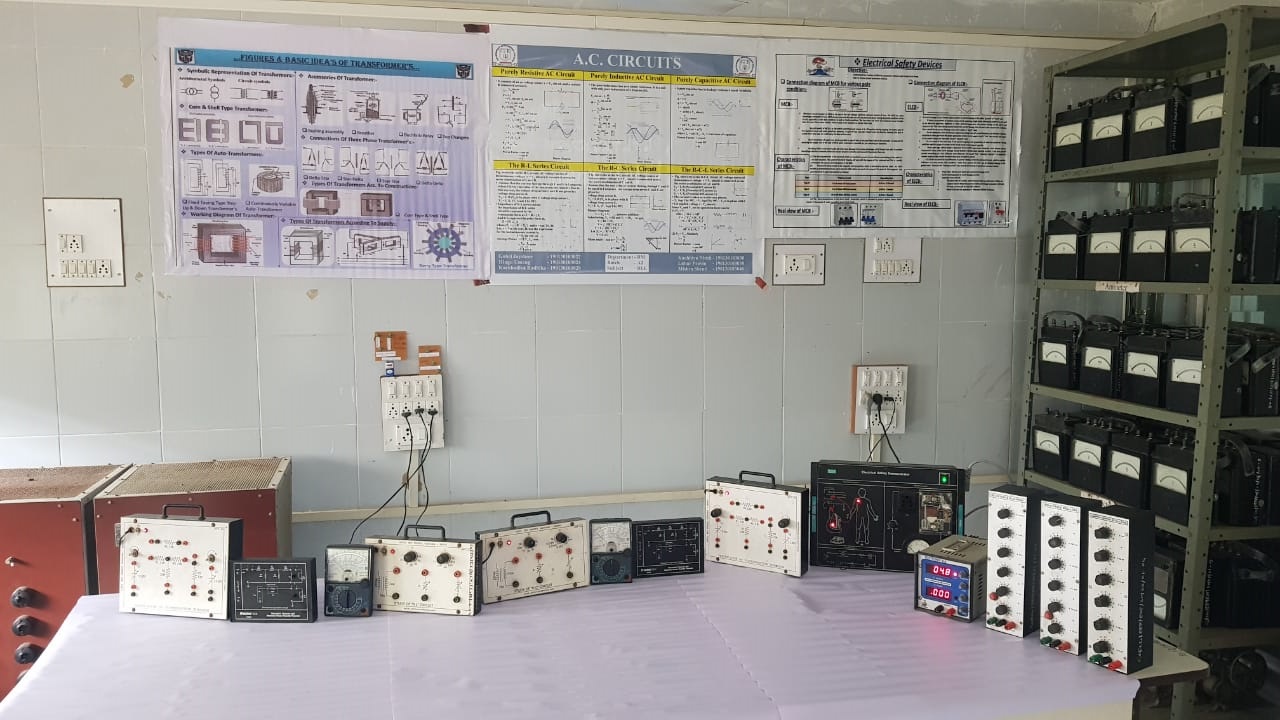 Basic Electrical Engineering Lab
A lab with knowledge of basic electrical concepts with subtitles like DC theorems, AC circuit operation, basic protections with safety aspects, some electrical machines etc... It is firmly believed that this course will help students to overcome their initial apprehensions and initiate a life-long affair with electrical applications. It also presents a clear and concise exposition of the principles and applications of electrical field.

Electrical Workshop Lab
Electrical Workshop is intended to impart skills to plan and carry out different electrical wiring schemes. It is essential for the practicing engineers to identify the basic practices and safety measures in electrical wiring and use of few electronics concepts. Students of 1st year develop active models in this laboratory and also test them for improvement of their confidence level.